Thread ini adalah thread yang akan membahas karya - karya Robert Galbraith
Who is Robert Galbraith?
Sebelum terkuaknya identitas Robert Galbraith, novel pertamanya yang berjudul The Cuckoo's Calling nyaris tak ada yang melirik. Semua berubah ketika beliau tak lain dan tak bukan adalah
J.K.Rowling!!!
Yep, tante Jo ternyata mastermind dibelakang Robert Galbraith
Apa saja karya Robert Galbraith?
#1 The Cuckoo's Calling
Status: Sudah diterjemahkan oleh GPU
Judul terjemahan: Dekut Burung Kukuk

Sinopsis:

Ketika seorang supermodel jatuh dari ketinggian balkon di Mayfair yang bersalju, polisi menetapkan bahwa ini kasus bunuh diri. Namun, kakak korban meragukan keputusan itu, dan menghubungi sang detektif partikelir, Cormoran Strike, untuk menyelidikinya.

Strike seorang veteran perang yang memiliki luka fisik dan luka batin. Hidupnya sedang kisruh. Kasus ini memberinya kelonggaran dalam hal keuangan, tapi menuntut imbalan pribadi yang mahal: semakin jauh dia terbenam dalam kasus ini, semakin kelam kenyataan yang ditemuinya---dan semakin besar bahaya yang mengancam nyawanya...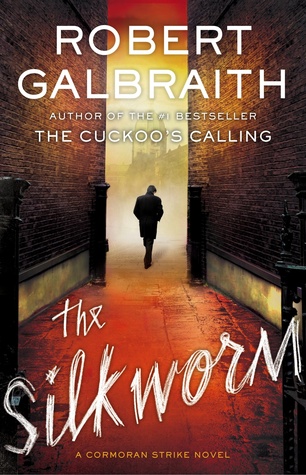 #2 The Silkworm
Status: Sudah diterjemahkan oleh GPU
Judul Terjemahan: Ulat Sutra
Sinopsis:
Seorang novelis bernama Owen Quine menghilang. Sang istri mengira suaminya hanya pergi tanpa pamit selama beberapa hari?seperti yang sering dia lakukan sebelumnya lalu meminta Cormoran Strike untuk menemukan dan membawanya pulang.
Namun, ketika Strike memulai penyelidikan, dia mendapati bahwa perihal menghilangnya Quine tidak sesederhana yang disangka istrinya. Novelis itu baru saja menyelesaikan naskah yang menghujat orang banyak?yang berarti ada banyak orang yang ingin Quine dilenyapkan.
Kemudian mayat Quine ditemukan dalam kondisi ganjil dengan bukti-bukti telah dibunuh secara brutal. Kali ini Strike berhadapan dengan pembunuh keji, yang mendedikasikan waktu dan pikiran untuk merancang pembunuhan yang biadab tak terkira.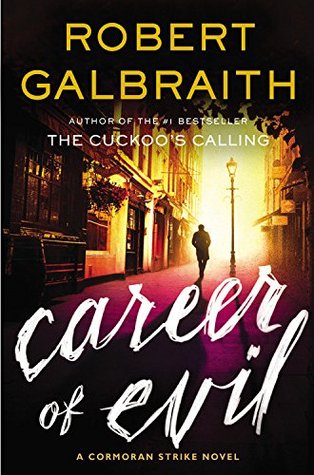 #3 Career of Evil
Status: Terjemahan rencananya akan terbit Mei 2016
Sinopsis:
Cormoran Strike is back, with his assistant Robin Ellacott, in a mystery based around soldiers returning from war.
When a mysterious package is delivered to Robin Ellacott, she is horrified to discover that it contains a woman's severed leg.
Her boss, private detective Cormoran Strike, is less surprised but no less alarmed. There are four people from his past who he thinks could be responsible – and Strike knows that any one of them is capable of sustained and unspeakable brutality.
With the police focusing on the one suspect Strike is increasingly sure is not the perpetrator, he and Robin take matters into their own hands, and delve into the dark and twisted worlds of the other three men. But as more horrendous acts occur, time is running out for the two of them…
Career of Evil is the third in the series featuring private detective Cormoran Strike and his assistant Robin Ellacott. A mystery and also a story of a man and a woman at a crossroads in their personal and professional lives.
Yuk, mari kita berdiskusi ngebahas karya om Robert
PS: Gambar cover menyusul